Sparkles in kids' eyes
Shimadzu employees are socially engaged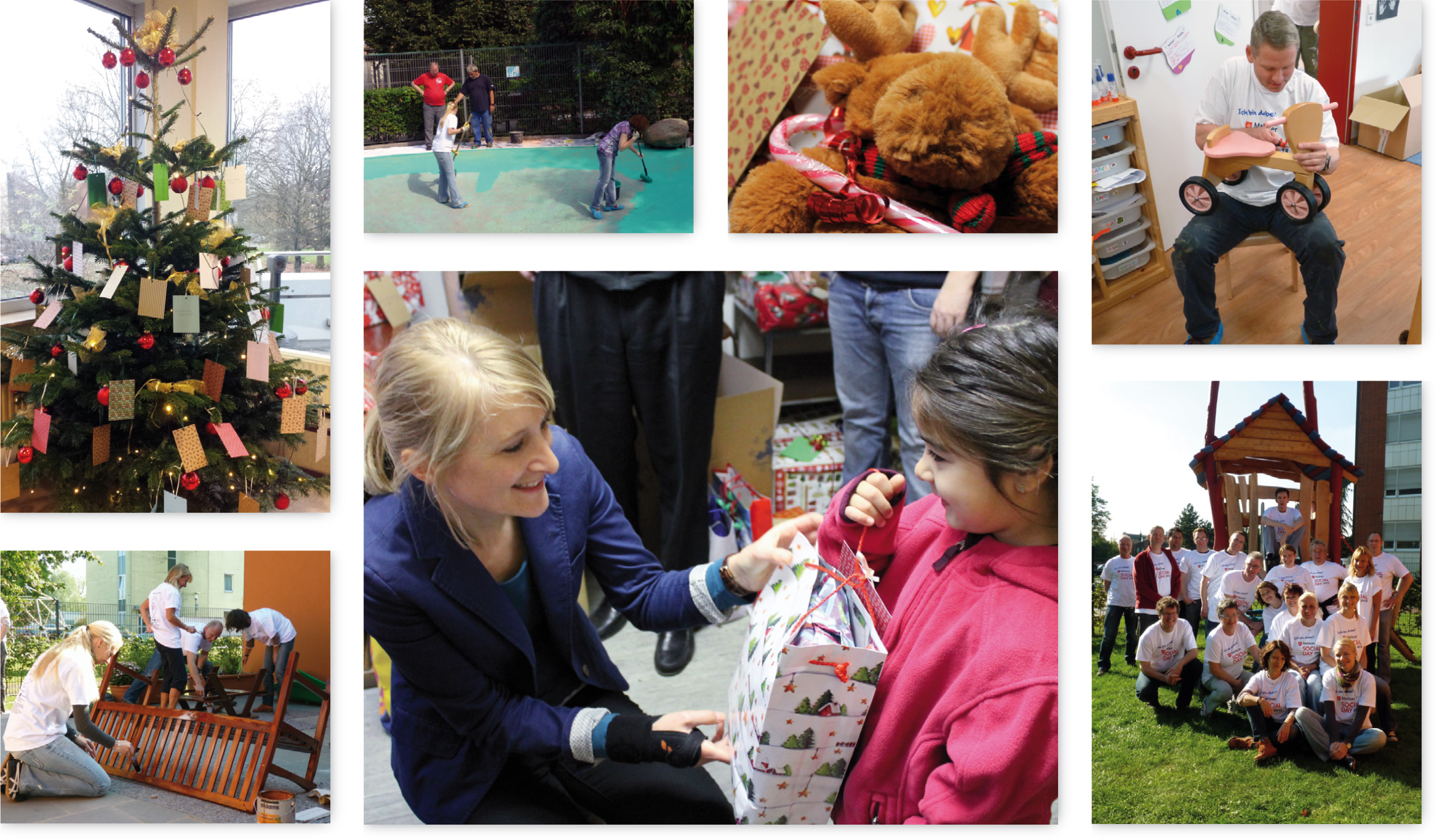 For Shimadzu and its employees, social and non-profit commitment is day-to-day reality. Fellow citizens as well as the environment take center stage in this corporate-citizen-engagement. Shimadzu has launched various projects in which employees can become socially involved, such as the annual 'Social Day' in Duisburg, or the 'Wish Tree' in which employees fulfill children's Christmas wishes.
In 2013, the first 'Social Day' was organized and tackled enthusiastically by 25 employees. Within the scope of Germany's national 'Maltese Social Day' the Maltese Foundation had recommended to help out in Duisburg's kindergarden 'The little Rascals.' In cooperation with the directors of Shimadzu Europa and Shimadzu Deutschland, Jürgen Kwass and Jürgen Semmler, walls were painted, toys were repaired and garden plots were planted.
Identifying with communities and regions

"As an established Duisburg-based company, Shimadzu is closely connected with the city and the region. The same is true for our technical offices and their respective locations in Germany" explains Jürgen Semmler. "As part of the increased awareness for sustainable development of our society and businesses, Shimadzu has become involved as a responsible company. Therefore, our 'Social Day' is a yearly contribution in which we, together with our employees, commit ourselves to social projects in our region."
After the successful start last year, volunteers were easily found in September 2014 to help out at the Duisburg animal shelter. Various teams undertook various tasks for which there is often no time in daily operation of the shelter. "We renovated and freshly painted the dog pool, built a wooden house, felled a tree and even baked dog biscuits", said Jennifer Libuda. "A little tired, but very proud, at the end of the day we could look back to many accomplished projects."
During advent time – 'Wish Tree' for children

Since 2012, Shimadzu's employees also volunteer with pre-Christmas social events: a 'Wish Tree' realized in cooperation with the Social Welfare Organization Diakoniewerk Duisburg. Children from socially disadvantaged families that are being looked after in day care groups at the Diakoniewerk may write down their Christmas wishes, which are then being fulfilled by Shimadzu employees. In 2012 and 2013, close to 70 children and adolescents received Christmas gifts this way.
During Christmas 2014, Shimadzu was committed again – and because of the current political situation the event took place this time at the refugees' home in Duisburg-Baerl. 63 children could look forward to receiving a Christmas present from Shimadzu employees, who in turn received the greatest gift themselves – sparkles in kids' eyes.