Extended analysis possibilities
Special accessories for the UV-3600 Plus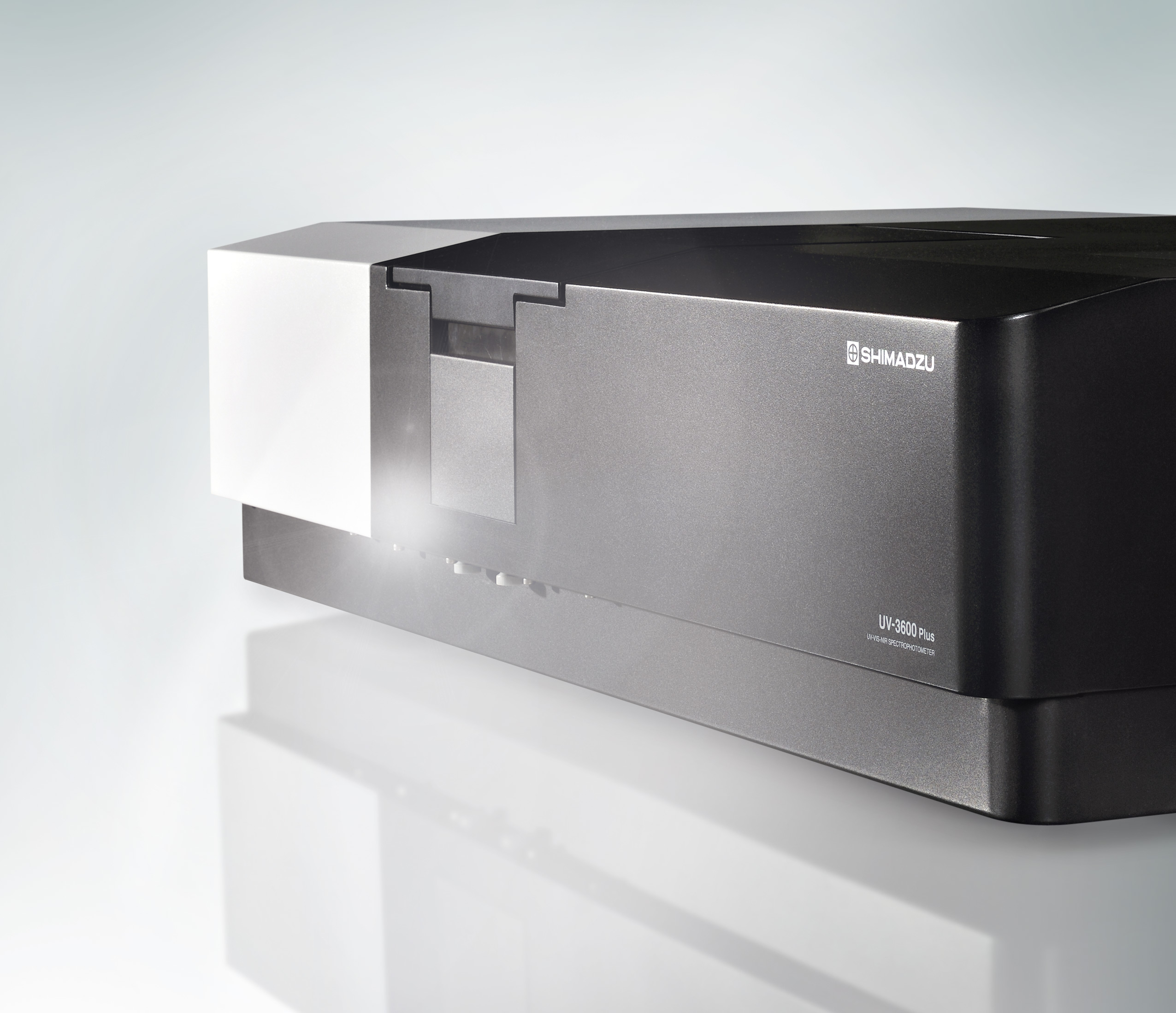 UV-3600 Plus
With the new UV-3600 Plus, Shimadzu has extended its successful UV-VIS-NIR family. The innovation of working with three detectors (PMT [photomultiplier] InGaAs [indium-gallium-arsenide] and PbS cell [lead sulfide]) in the previous UV-3600 model is being continued with additional new accessories.
The MPC-603 (Multi Purpose Sample Compartment) with built-in integrating sphere and ISR-603 (Integrating Sphere Attachment) complement the UV-3600 Plus market introduction. In addition to conventional measurements of diffuse and specular reflectance, it is now also possible to carry out absolute reflectance measurements with three detectors in the UV-3600 Plus.
The sample compartment of the UV-3600 Plus is designed in such a way that on the one hand the PMT is switched off when the sample compartment is open, while also being able to implement accessories connections in the sample compartment. The new integrating spheres are equipped with suitable accessories, allowing measurement of liquids and solids as well as measurement of films.
The most important new features at a glance:


ISR-603
Cell, powder and film holders are standard equipment for the 60 mm ISR-603 BaSO4 (barium sulfate) integrating sphere. The sphere is equipped with three detectors. The ISR-603 measures diffuse reflectance and total reflectance of liquids and solids. Incidence angles of 0 °C and 8 °C can be realized.
MPC-603
The sample compartment for large samples is equipped with a 60 mm BaSO4 integrating sphere. Transmittance as well as reflectance measurements can be carried out. Radiation incidence angles of 0 °C and 8 °C onto the sample can be realized. The sample table can be freely adjusted in the xyz direction. It is equipped with a V-stage for non-planar samples that is suitable, for instance, for bottles or large objectives. The MPC-603 can be extended to achieve absolute reflectance measurements for incidence angles of 5°, 12°, 30° and 45°. It contains three detectors for measuring the UV-VIS-NIR radiation.
UVProbe 2.50 with connection to the LabSolutions platform

The new UVProbe 2.50 software version can be integrated in the database, and can also be integrated as a client-server version in the LabSolutions server platform. This way, the application range is extended from simple file management using Windows Explorer into two additional digital data management versions. The LabSolutions platform works with databases of different levels and integrates a wide selection of instruments, for example chromatography or spectroscopy systems.
Using the LabSolutions connection kit for the UVProbe software, the file version of the UVProbe is converted into a database control component that meets all demands associated with a protected database, such as user level or testing criteria, which are required by pharmaceutical industry regulatory procedures.