Innovative analytical solutions for the automotive industry
CAR Symposium in Bochum, Germany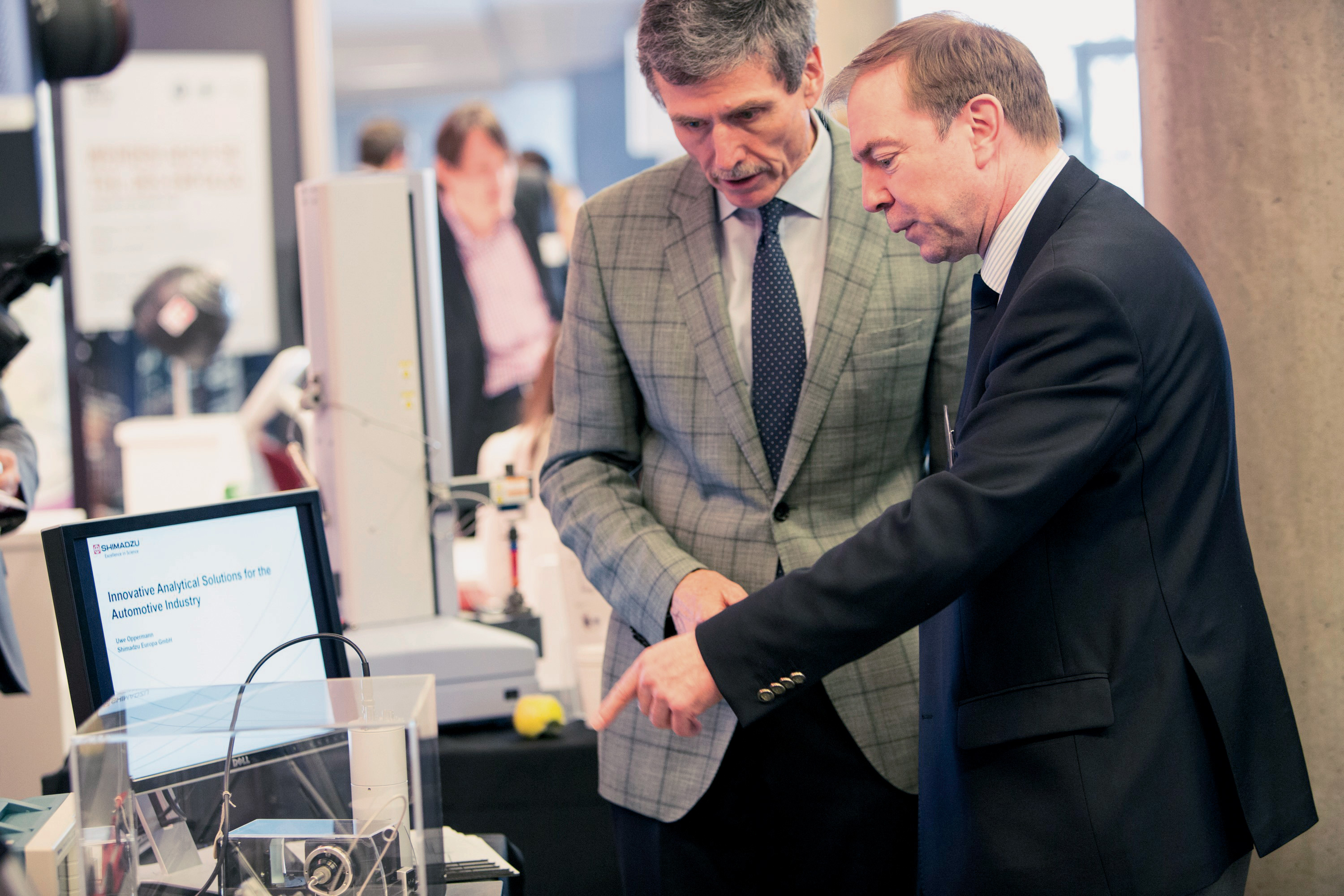 Figure 1: Professor Ferdinand Dudenhöffer, University of Duisburg-Essen, Department of Business Administration and Automotive Economics, discussing the ExDop fiber-optics probe at the Shimadzu stand
Opportunities and challenges for future mobility – this was the topic of discussion for approximately 1,000 managers and decision-makers in February 2015 during the annual international CAR symposium in Bochum, Germany. This high-ranking industry meeting brings automobile manufacturers and automotive industry suppliers together.
As an important business and employment factor and raw materials processor, the automotive industry with its growing sales figures is also expected to take care of environmental and consumer protection. In recent years, considerable emphasis has been placed on more environmentally friendly materials and stricter disposal guidelines. Shimadzu, a supplier of advanced solutions and technologies, joined the CAR symposium as a partner company and was represented in the exhibition and the lecture program.
Environmental compliance and recycling, higher costs of raw materials and increasingly sophisticated customer requirements on the quality of the finished product and the materials used are major challenges for the automotive and supplier industry. With its spectroscopy, chromatography, mass spectrometry and environmental analysis systems as well as its testing machines, Shimadzu offers a comprehensive product portfolio to meet these challenges.
Typical application examples are the quantitative determination of hazardous substances in motor vehicles in compliance with the Directive of the European Parliament on end-of-life vehicles. Accordingly, substance bans apply to heavy metals such as mercury, cadmium and lead. These elements can be quantified easily and quickly using an energy-dispersive X-ray fluorescence spectrometer such as the EDX-7000.
Quality control of fuels, lubricants, motor oils and additives is carried out using the ICPE-9820 ICP-OES spectrometer according to international standards such as ASTM 5185 for the elements calcium, magnesium, phosphorus, sulfur and zinc.
Unequivocal identification of materials like plastics, polymers and rubber can be carried out applying molecular spectroscopy with FTIR spectrometers such as the IR-Affinity-1S for the mid-infrared range.
For failure analysis of polymer materials and components in motor vehicles, pyrolysis GC-MS is the method of choice.
High-performance materials on the test bench

Another application area is materials testing. Material properties are very diverse and, depending on the forces exerted and environmental conditions, exhibit different behaviors. For the development of high-performance materials, R&D departments of automotive manufacturers need very precise and reliable data for production and quality control. Shimadzu's testing machines are state-of-the-art in terms of control technology, sensor technology or information processing and thus reliably support developers and users.
Using the AG-Xplus series of testing machines, it is even possible to compare unknown materials reliably without pre-testing. The autotuning function enables strain-controlled experiments compliant with ISO 6892-2009 for steel samples as well as for synthetic materials and ceramics.
High-speed camera for material testing and fuel injection

In a variety of scientific applications, the most interesting phenomena occur within fractions of a second. Ultra-high-speed cameras like the HPV-X enable the observation of these instants in material testing or during optimization of fuel injection. With its completely newly developed CMOS sensor, the HPV-X achieves continuous recording at a speed of up to 10 million frames per second (10 Mfps).
New: fiber-optic probe for combustion processes

For the optimization of combustion properties in engines, Shimadzu offers the new ExDop fiber-optic probe, which can detect the efficiency of the combustion process based on transmittance measurements (typically 60 %) in the wavelength range of approximately 200 to 600 nm. This method is suitable for replacing the conventional pressure sensors.