Groundbreaking LC technology
The new Nexera LC-40 series merges ease-of-use and peace-of-mind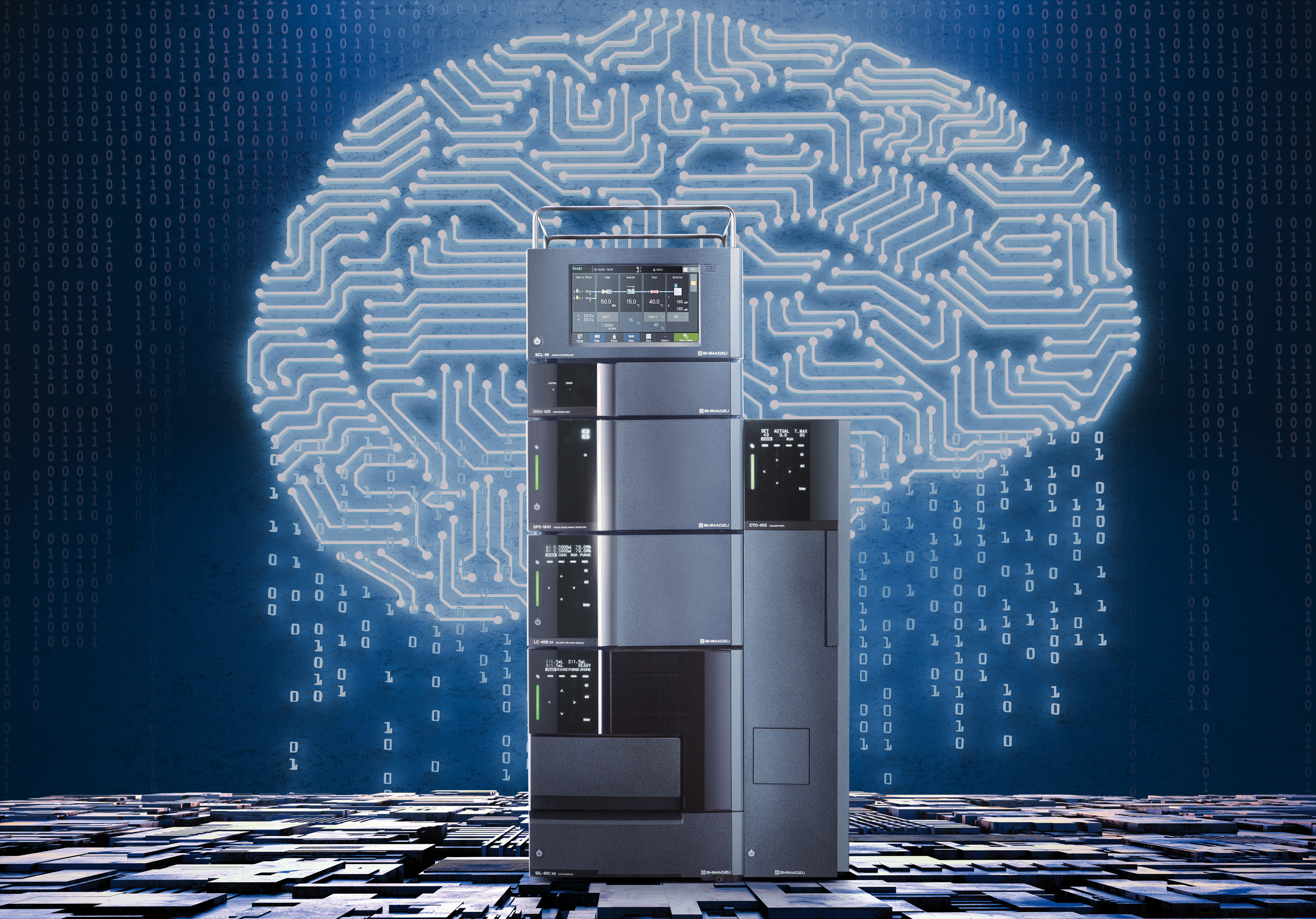 The Nexera series of UHPLC systems offers groundbreaking technology in terms of intelligence, efficiency and design, merging ease-of-use and peace-of-mind. Advanced AI capabilities and lab management using the Internet of Things (IoT) have been integrated to monitor performance and resource allocation. They make the new Nexera systems a leading-edge and user-friendly solution for versatile industries, setting new benchmarks in UHPLC.
Shimadzu has long been advancing the analytical performance of HPLC systems. The company has recognized that overall efficiency depends not only on the performance of one instrument, but on the management of all devices within a lab. That's where intelligence, efficiency and design come together.
The new Nexera systems are applicable to every analytical challenge with a seamless transfer between HPLC and UHPLC applications. They stand for high reliability, extraordinary performance, exceptional reproducibility, ultra-low carryover and superior data quality. The instruments satisfy the needs of a wide range of applications for pharmaceutical, chemical, environmental, food, automotive and also clinical analyses.
A new benchmark of intelligence – maximizing reliability and uptime

The Nexera series provides auto-diagnostics functions as well as auto-recovery features supporting users in their day-to-day workflow. For example, air bubbles can in rare cases form in the mobile phase and cause problems if inhaled into the pump. Nexera has the ability to monitor baseline changes and pressure fluctuations to check for anomalies and take appropriate counter measures.
The Nexera UHPLC series maximizes reliability and uptime with fully unattended workflows that span from startup to shut-down. Operators can set the Nexera to start up at a specified time, so that it can complete auto-purge, equilibration, baseline checks and system suitability in advance, and be ready for analysis before they arrive at the lab. In addition, the smart flow pilot ramps up the flow rate gradually, reducing the possibility of damage to columns. There is no need to create startup protocols for each analysis.
Mobile phase levels can now be measured in real-time. Reservoir tray weight sensors monitor the volume of mobile phase or auto­sampler rinse solution in up to twelve containers, and can be checked remotely from a smart device. There is no need to worry about running out of mobile phase mid-analysis, as the system ensures beforehand that the volume will be sufficient for the entire run-time, otherwise giving a notification.
Key components of the Nexera UHPLC series supporting laboratory efficiency:
Mobile Phase Monitor MPM-40
System Controller SCL-40, CBM-40
Absorbance detector SPD-40 / SPD-40V and Photodiode detector SPD-M40
Solvent delivery unit LC-40 series
Autosampler SIL-40 series / Plate Changer
Column oven CTO-40 series
A new benchmark in efficiency – automating workflow, maximizing throughput

Automated processes and fast, robust performance are key to an efficient laboratory environment. They speed up the overall workflow and provide results even more accurate and reliable than before.
The Nexera series provides non-stop temperature-controlled analysis of thousands of samples with the new optional plate-changers. Samples can be set in advance in up to 44 MTPs or vial racks in each plate changer. Even during analysis, the insertion of additional vials and MTPs is possible due to the autosampler's excellent temperature control.
A new benchmark of design – ease-of-operation with a reduced footprint

The set-up of the Nexera series merges user-friendly functions with operational efficiency while space and cost-saving aspects provide a sustainable profitable solution for any laboratory.
The Nexera LC reduces energy consumption by over 80 % when on standby, significantly minimizing running costs and supporting an environment-friendly lab. Injection ports for two separate flow paths can be installed, allowing two different types of analysis to be performed at the same time using only one system. Nexera boasts ultralow carryover, even on a high-sensitivity LC-MS/MS. This reduces time spent on rinsing, resulting in a shorter overall analysis time.
The new Nexera series systems feature a uniquely small footprint and free up bench space for other instruments.
AI and IoT: ease-of-use meets peace-of-mind

Building on 40 years of experience in LC tech­nol­o­gy, Shimadzu has integrated groundbreaking technologies in the new Nexera LC-40 UHPLC series. AI (Artificial Intelligence) capabilities have been incorporated to allow devices to detect and resolve issues automatically. Lab management has been integrated using the Internet of Things (IoT) and device networking, making it simple to review the status of your instruments and optimize resource allocation.
Due to the combination of AI and IoT, the Nexera series foresees errors and helps to avoid common mistakes in order to guarantee the best possible outcome and efficiency. Smart software features allow close monitoring of instrument use while setting informed maintenance intervals. Users benefit from minimized downtime and maximized time-saving.