A new era
Introducing the LC-20AP preparative HPLC pump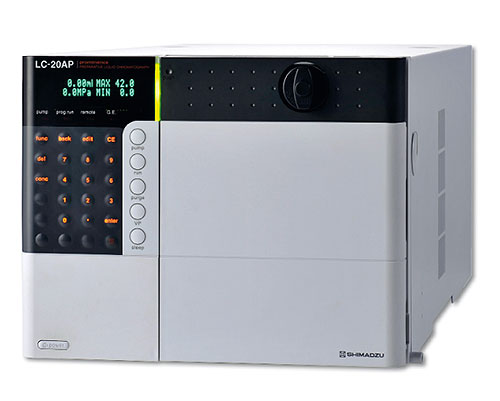 Figure 1: LC-20AP preparative HPLC pump
The LC-20AP preparative HPLC pump, available with immediate effect, is a follow-up model to the successful LC-8A. In the development of the LC-20AP, careful attention was paid to the requirements of modern preparative HPLC pumps. In addition to the key features explained in greater detail below, energy consumption has been reduced by 40 % due to the newly designed power supply and new motor control electronics.
The flow rate range of the pump extends from the analytical to the preparative scale. The high resolution and excellent reproducibility allow 'scale-up' from the analytical to the preparative application range using the same system – which is why we are talking of a new era in preparative HPLC pumps.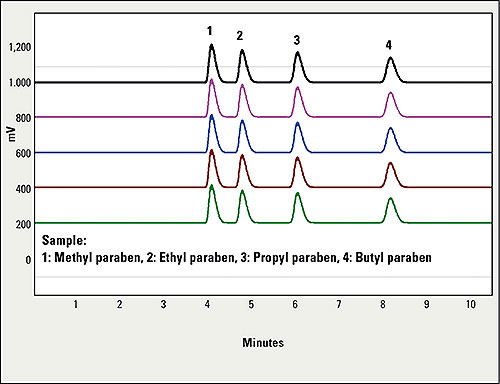 Figure 2: Chromatogram overlay
Based on the construction and the well thought-out selection of materials, it is possible to operate the LC-20AP at a maximum backpressure of 42 MPa with a flow rate of up to 100 mL/min (35 MPa at 150 mL/min).
Excellent precision

For preparative HPLC pumps, high flow rate precision is extremely important in order to carry out fractionations reliably based on time windows. Even without solvent degassing, the LC-20AP is capable of providing excellent reproducibilities.
The following example shows the repetitive run of six injections under analytical conditions, a real challenge for preparative HPLC pumps.

Table 1: Results of the test shown in figure 1 (repetition of six injections under analytical conditions)
The results show a retention time reproducibility of less than 0.2 % RSD (relative standard deviation) for each component. Such a result cannot be obtained with conventional preparative HPLC pumps.
Analytical conditions

Column: Shim-Pack VP-ODS 4.6 mm i.d. x 250 mm L, 5 μm
Mobile phase: 0.05% formic acid / methanol = 3 / 7 (v/v)
Flowrate: 1.0 mL/min
Temperature: 40 °C
Detection: Absorption 260 nm
Injection volume: 10 μl
Analytical and preparative separations on just one system

The high system precision enables carrying out analytical runs as well as 'preparative scaleup' at the highest precision attainable. The specification for flow precision (0.1 % RSD or 0.02 min SD) is usually only achieved using analytical HPLC pumps.
The following example shows the comparison of an analytical separation with a preparative separation using paired columns (same packing material but different column dimensions for analytical and preparative column). The volume ratio between preparative and analytical column is approximately 19.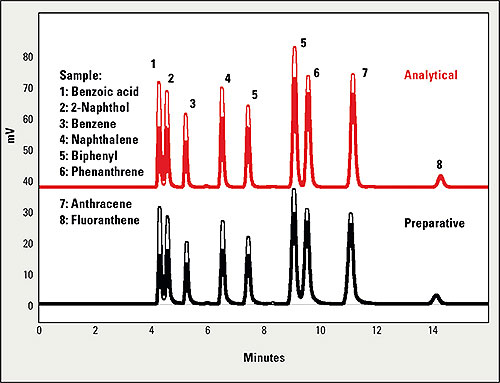 Figure 3: Comparison of analytical separation and preparative separation
Using this ratio as 'scale-up factor' for an analytical separation at a flow rate of 0.8 mL/min results in a preparative flow rate of 15 mL/min. As the chromatogram comparison shows, both chromatograms are virtually identical. This enables highly reliable 'scaleup' as well as parameter adjustment for fractionation. Now it is no longer necessary to sacrifice costly materials for the optimization of preparative methods.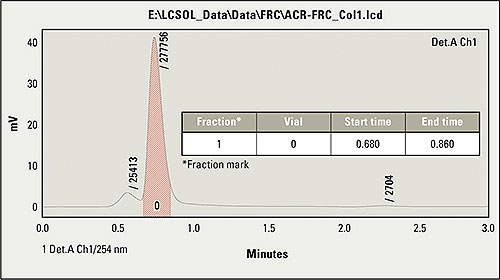 Figure 5: Example of a preparative/analytical system with high-pressure switching valve
Analytical conditions

Columns: Shim-Pack PREPODS( H) Kit
Analytical column: 4.6 mm i.d. x 250 mm L, 5 μm
Preparative column: 20 mm i.d. x 250 mm L, 5 μm
Mobile phase: 0.1 % formic acid / methanol = 1/9 (v/v)
Flow rate: A) 0.8 mL/min, B) 15 mL/min
Detection: Absorption 254 nm
Reliability



Figure 4: Solvent selection valve
The LC-20AP is the 'number one choice' in terms of operating costs and reliability, as the wear and tear of consumables is greatly minimized by the choice of materials and design. In the LC-20AP completely new pistons, piston seals and valves have been used. Based on their minimal contact surface, the newly designed valves will not jam even when contaminated, and therefore enable reliable solvent delivery.
Flexibility and extensibility

Combining with the prominence HPLC modules provides a virtually unlimited system flexibility meeting every requirement in preparative liquid chromatography. The following examples illustrate some of the many possibilities:
Solvent delivery and solvent selection:
Each pump can be equipped with multiple solvent selection valves (FC-230AL), allowing the selection of mobile phases as well as rinsing solvents. The pumps enable the implementation of binary and ternary high-pressure gradients.
High-pressure switching valve:
The system can be equipped with up to six high-pressure switching valves for different purposes (e.g. sample purification using a trapping column). The following example shows a preparative/analytical system, where a high-pressure switching valve is used to switch as required between the combinations of 'analytical mixer/analytical column' and 'preparative mixer/preparative column.'
Various injection modes (injectors, valve injections):
Shimadzu offers various autosamplers as well as manual injectors. Almost all analytical injectors can be scaled up for use in the preparative application range by installing larger sample loops. Additionally, the preparative SIL-10AP autosampler is available, enabling injection volumes of up to 5 mL. For the large-scale range, another possibility is to inject the sample via switching valves.
The FRC-10A fraction collector:
In combination with the FRC-10A, a fully automated preparative HPLC system can be configured. Fractionation can be carried out according to various criteria, e.g. 'baselineslope' and/or 'signal level', as well as fixed time windows or a combination thereof.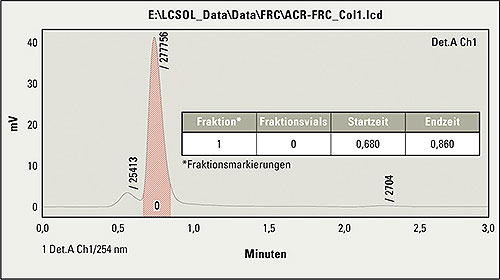 Figure 6: Example: Section of a fractionation report
Information such as fractionation markers and fractionation vials is part of the data file and is available for viewing during post-processing or in the form of a report. According to user requirements, different storage vessels as well as 'user racks' and a 'large-scale kit' can be used for collection in bottles.