Precise temperature control of sample cells
New CPS-100 accessory for UV-VIS spectrophotometers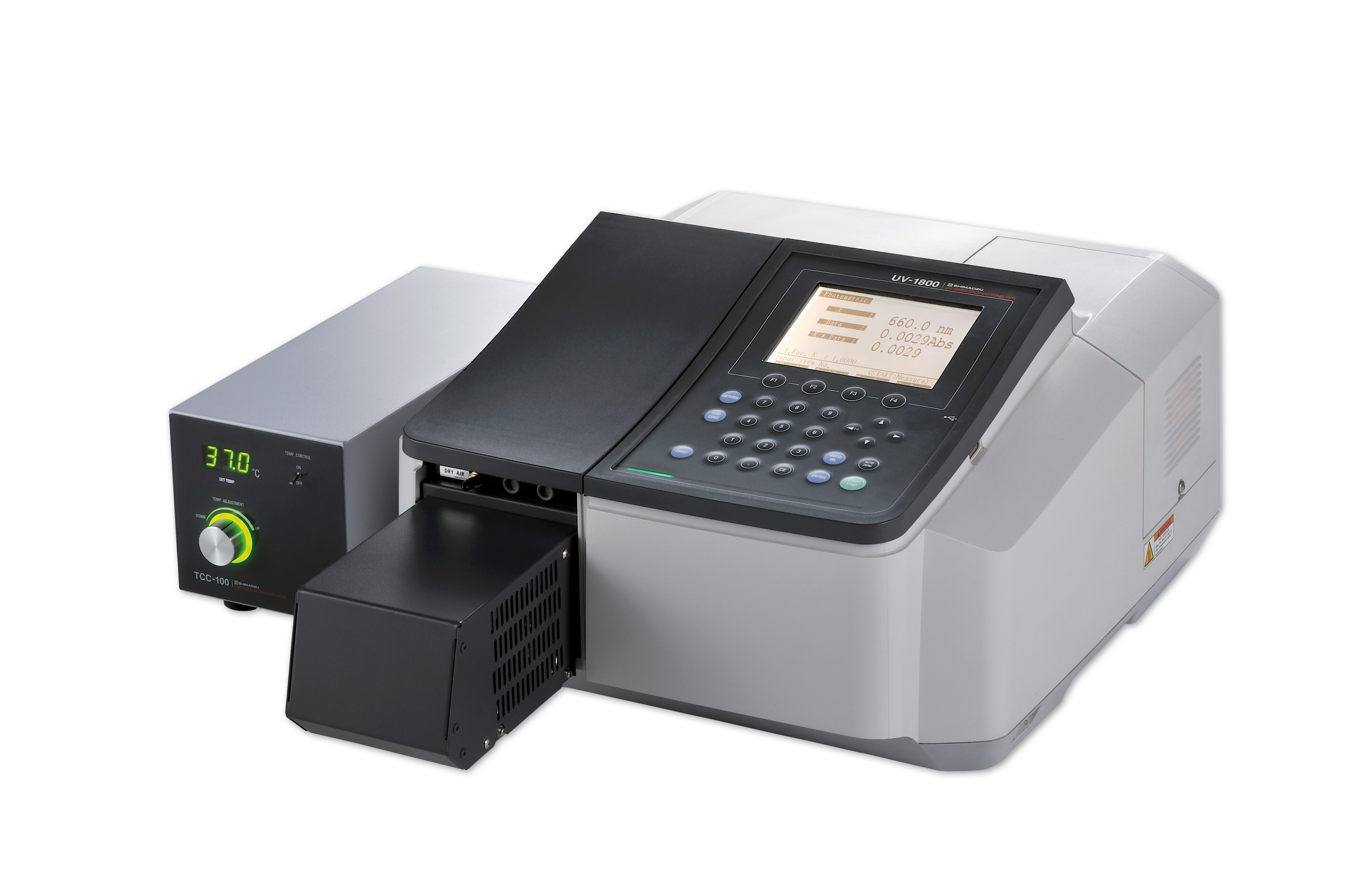 Figure 1: UV-1800 with CPS-100
Shimadzu offers the most diverse range of accessories for UV-VIS-NIR-spectrophotometers. A wide variety of cell holders, with or without temperature control, allows customized system configurations for all requirements of the environmental, pharmaceutical, food, life science applications and many more.
Whether a single standard cell at room temperature is used or a multi-cell changer for high sample throughput is required – the ideal solution for each analytical problem is always available.
The latest release in the European market is the CPS-100 thermoelectrically temperature-controlled 6-cell changer.
The CPS-100 is a 6-cell changer capable of controlling the temperature of the sample cells in a range from 16 °C to 60 °C with a precision of +/- 0.1 °C. Combined with a spectrophotometer such as UV-1800 working in kinetics mode, the system can be configured to measure the enzyme activity of up to six samples under constant temperature conditions. Figure 1 shows the UV-1800 in combination with CPS-100.
The CPS-100 can also be used in the following spectrophotometers: UVmini-1240 series, UV-2600/ UV-2700 and UV-3600.
The UV series is intended for multiple applications. A wide range of accessories enables customized solutions such as emission optics, rotating film holder, sample cups for integrating spheres, diverse selection of sipper units or photomultipliers for the NIR range.
A variety of software solutions for band gap analysis, Bilirubin determination in CSF and sun protection factor for milks, creams and textiles complement the hardware range.