New micro-flow LC-MS solution
Nexera Mikros provides high sensitivity, durability and ease-of-use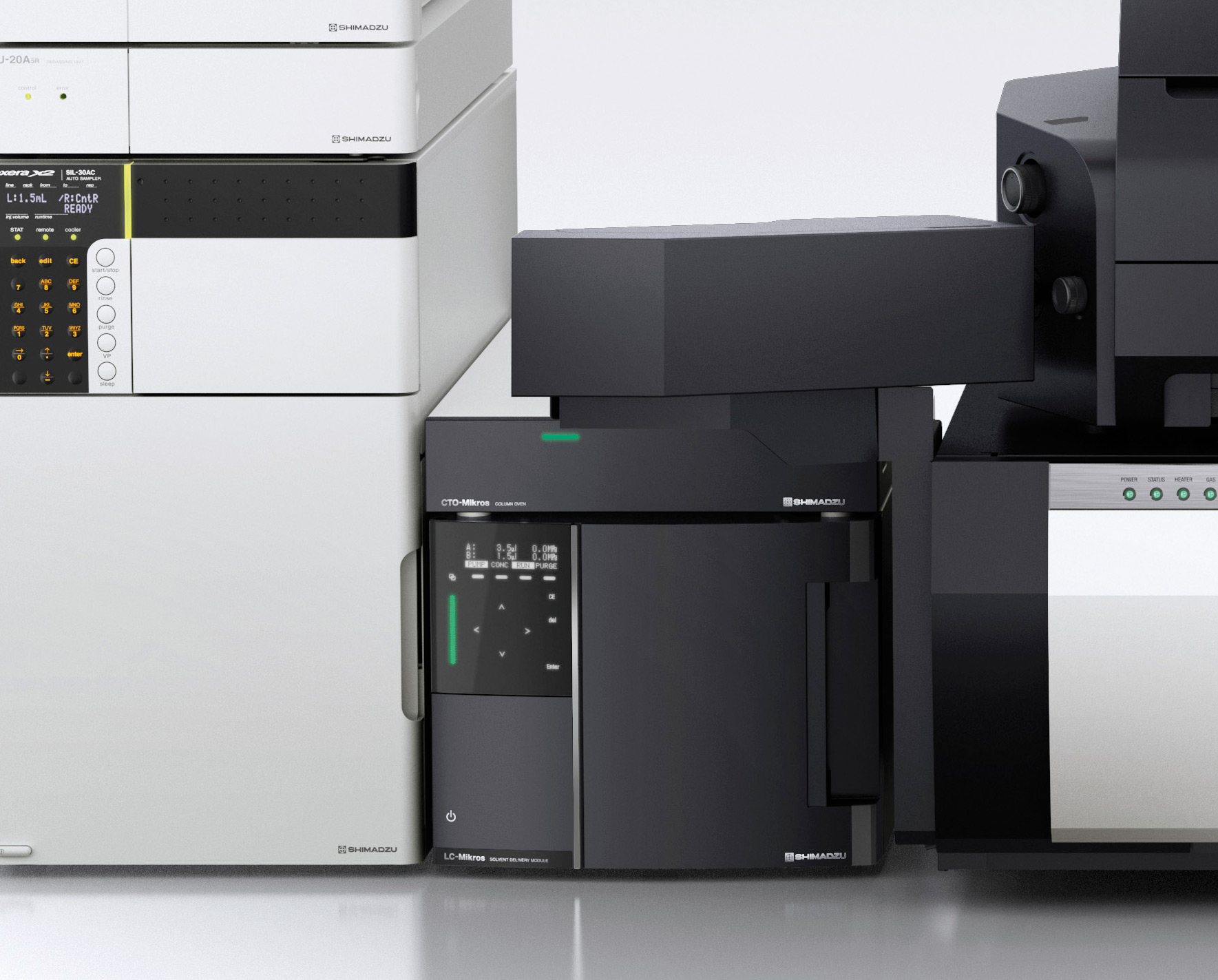 Nexera Mikros
The Nexera Mikros is a brand-new LC-MS accommodating a wide range of flowrates, from semi-micro flowrates (100 to 500 µL/min) which are often used for analysis in existing systems, to micro flowrates (1 to 10 µL/min). This system achieves both durability and operability while enabling analysis with a significant increase in sensitivity.
Nexera Mikros complements the Nexera series, featuring Nexera X2, XR, MP, Nexera-i and Nexera UC systems to maximize analytical productivity. The Nexera series is a unique approach to delivering high-quality, high-speed LC-MS analysis combining the Nexera UHPLC and any Shimadzu single or triple quadrupole UFMS solution as a seamlessly integrated system.
With Nexera Mikros, Shimadzu contributes to improving productivity at pharmaceutical companies and clinical contract research organizations. The new LC-MS sets a new standard in instrument operability, processing speed and ease-of-use as well as sample throughput.
Ten times more sensitivity

Compared to existing LC-MS systems, Nexera Mikros provides at least ten times more sensitivity. This is achieved by the LC-Mikros, a solvent delivery pump with a new control system, reducing pulsation while delivering a stable solvent flow even at low micro flowrates. In addition, positioning of the ionization interface has been optimized for more efficient sample introduction into the mass spectrometer.
UF-Link achieves both high-sensitivity analysis and improved operability

Microscopic gaps (dead volume) in the piping connectors lead to a decrease in sensitivity by causing peak dispersion. UF-Link, a connection mechanism between Shimadzu's newly developed analytical column and the mass spectrometer, ensures high sensitivity and, at the same time, enables one-touch connection between the analytical column and the ionization interface for the mass spectrometer. In addition, UF-Link is compatible with connections between commonly used analytical columns and the ionization interface, so column selection is flexible to suit the target sample.
Higher efficiency of investments in R & D

The LC-Mikros solvent pump delivers a wide flowrate range, from micro flowrates of 1 µL/min to semi-micro flowrates of 500 µL/ min. By enabling analysis comparable to existing LC-MS systems, and high-sensitivity analysis at micro flowrates, this single unit improves the operational efficiency of the LC-MS system and shortens research and development times.