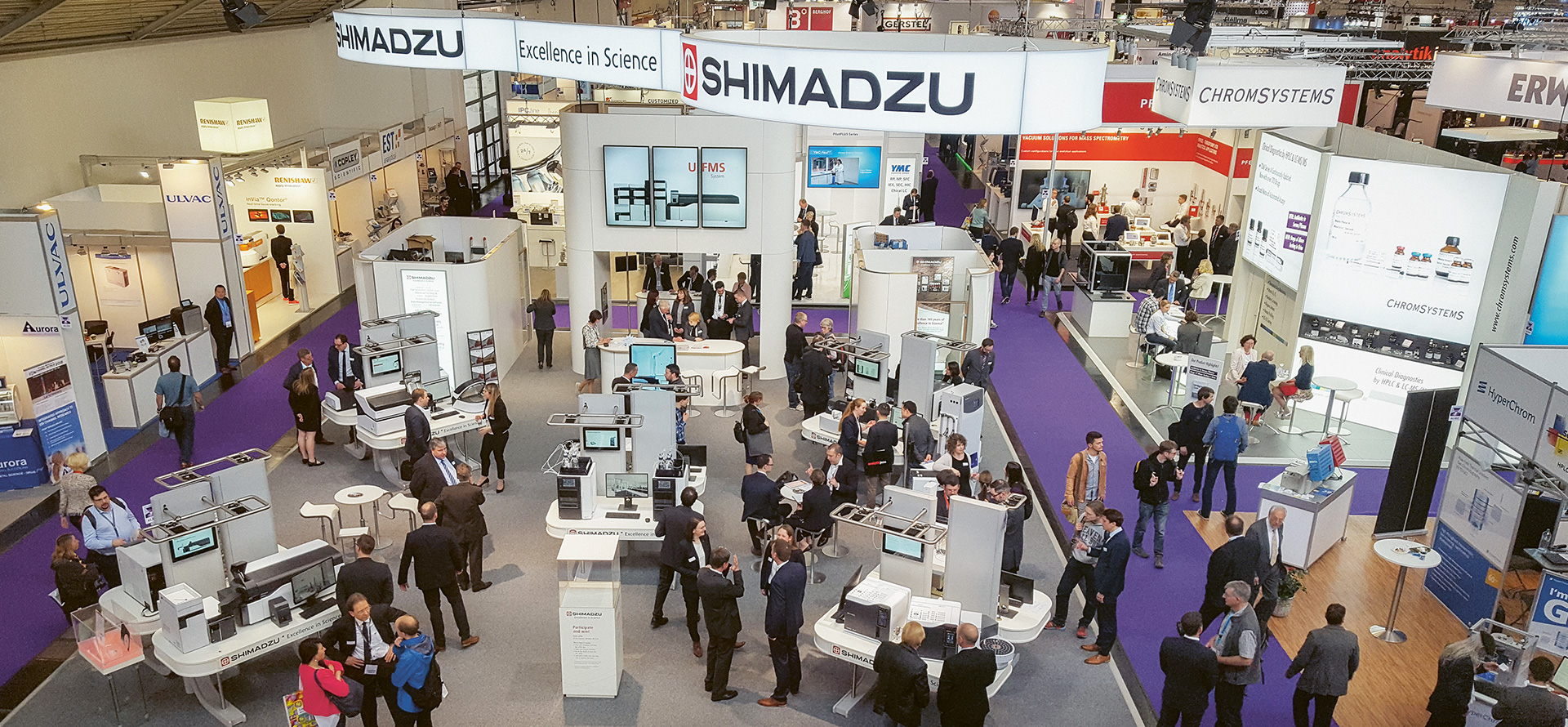 FASTER. HIGHER. FURTHER.
A reunion at analytica 2022 in Munich

Dr. Isabelle Spenner
Shimadzu Deutschland GmbH

The wait is over! After two long years during which numerous trade fairs could only take place virtually – or even had to be canceled – due to COVID-19, Shimadzu's trade fair calendar is now completely full again. A big highlight on that calendar is analytica 2022 in Munich, one of the largest leading trade fairs in the world for innovative laboratory technology and pioneering biotechnology. Several Shimadzu product innovations will celebrate their European premieres at analytica 2022.
For over 50 years, the analytica trade fair in Munich has been a fixture in the diaries of people interested in analytics. At the last live event in 2018, the trade fair broke all records, with nearly 1,200 exhibitors and over 35,000 visitors. After a purely virtual analytica in 2020, it's that time again: Visitors can finally breathe in that trade-fair air of inspiration from June 21 until June 24. For Shimadzu, analytica is an absolute highlight of the trade fair schedule. This year, the theme permeating over 190 square meters of exhibition space will be: Faster. Higher. Further.
Innovations and product premieres
The urge to discover something new and push beyond previous boundaries is what drives both science in general and instrumental analytics. This is reflected in the exhibited products. Visitors can learn about new highlights and current systems in chromatography, spectroscopy, mass spectroscopy, TOC and material testing, which includes several European premieres as well as systems never before exhibited in Germany.
At the Shimadzu press conference on June 21, the highlights and new products will be presented to the European public for the first time.
Four new products for improved performance in the laboratory
After a long period of absence, Shimadzu is once again looking forward to presenting new products and software live at analytica. We are particularly excited about the presentation of these four innovations:
LCMS-2050: High-end performance in a compact form
With the LCMS-2050, Shimadzu introduces a new single quadrupole LCMS detector that is impressive not only due to its compact size, but also because of its long service life and ease of use – without compromising on key specifications such as sensitivity, flexibility or speed. The LCMS-2050 combines high-performance liquid chromatography (LC) with the qualitative possibilities of mass spectrometry (MS). With an extensive range of features such as a dual ion source (HESI/APCI), high sensitivity, and the MASS-IT function, it provides reliable analysis with high-end results. Thanks to this combination, it is possible to record all the compounds in a sample in one go. During the development of the LCMS-2050, Shimadzu focused on providing an intelligent system that will keep pace with technology over the next decade.
LabSolutions MD – new software
The new LabSolutions MD software provides additional support for the established "Method Scouting" functionality for automated column and solvent screening using "Analytical Quality by Design" (AQbD). Thanks to a multifactorial design, only a reduced number of experiments are thus required to capture a set analytical space. Computer simulations of the retention behavior of the substances being analyzed within this space enable fast, statistically sound decisions about suitable, robust separation conditions, while also reducing the risk of error. In combination with the Shimadzu LabSolutions software, LabSolutions MD provides data management, analysis and intuitive reporting, all in one database, and ensuring data integrity.
MALDI-8030 – sophisticated technology for the laboratory bench
The MALDI-8030 is the latest in a long line of MALDI-TOF products from Shimadzu. Compared with the MALDI-8020, the performance data of the MALDI-8030 have been extended to capture compounds that are best suited to analysis in the negative ion mode. This benchtop, linear MALDI-TOF mass spectrometer with dual-polarity provides outstanding performance in a compact housing, and is thus the ideal choice for today's increasingly sophisticated laboratories.
TOC-1000e – analysis in miniature
TOC-1000e is the first instrument of the eTOC series of online TOC analyzers designed for pure water applications. TOC-1000e provides highly-sensitive detection in the smallest and lightest housing on the market. This makes it ideal for fields requiring high-purity water applications, such as precision manufacturing, pharmaceuticals and semiconductors. Thanks to its minimal space requirements of less than an A4 piece of paper, the TOC-1000e can be installed flexibly – either as a benchtop, wall-mounted, or pole-mounted unit. The system complies with the requirements of major pharmacopeias such as the United States Pharmacopeia (USP) and the European Pharmacopeia (EP).
Larger team – optimized trade fair stand
It's not just the array of products that has grown significantly during the break from in-person trade fairs: The Shimadzu Deutschland team is bigger, too. Many Shimadzu colleagues are looking forward to visiting their very first analytica. They are especially excited about discussing and answering questions about the innovative new products on display, and hope to share their enthusiasm with many trade fair visitors.
Shimadzu has optimized its trade fair stand this year to better present product highlights and innovations. Of course, the general trade fair planning has also changed as a result of the coronavirus pandemic. The safety of customers and the trade fair team is at the forefront of all considerations – from product presentations to the giving out of the much-loved Giant Microbes. In close coordination with Munich Trade Fair Center, the trade fair stand has been equipped with an up-to-date hygiene approach.
So that people can visit the stand and get in-person consultations in compliance with our new hygiene approach, visitors may obtain the much-sought-after microbe plush toys by presenting their invitation card at the trade fair stand, or by using the QR code from the analytica newsletter: www.shimadzu.de/newsletter. The popular daily draw for the extra-large microbes will only occur digitally.
In-person consultations
For Shimadzu, face-to-face contact and individual consultations are a central part of its presence at analytica, and will continue this year within the parameters of current hygiene requirements. So a full team of sales, product and application specialists will be there to greet and assist visitors at analytica 2022. "It makes us happy to offer solutions to our customers that make life in the laboratory more comfortable and convenient for them", says Michael Lahme, Sales Manager Shimadzu Deutschland. "To do this, we provide personal and qualified consultations, whether directly on site at analytica in Munich or digitally."
From June 21 until 24, 2022 you will find Shimadzu at analytica at stand 502 in hall A1 of Munich Trade Fair Center.
We look forward to seeing you again!