The balance of power
LCMS-8060NX balances enhanced performance and robustness without compromising sensitivity and speed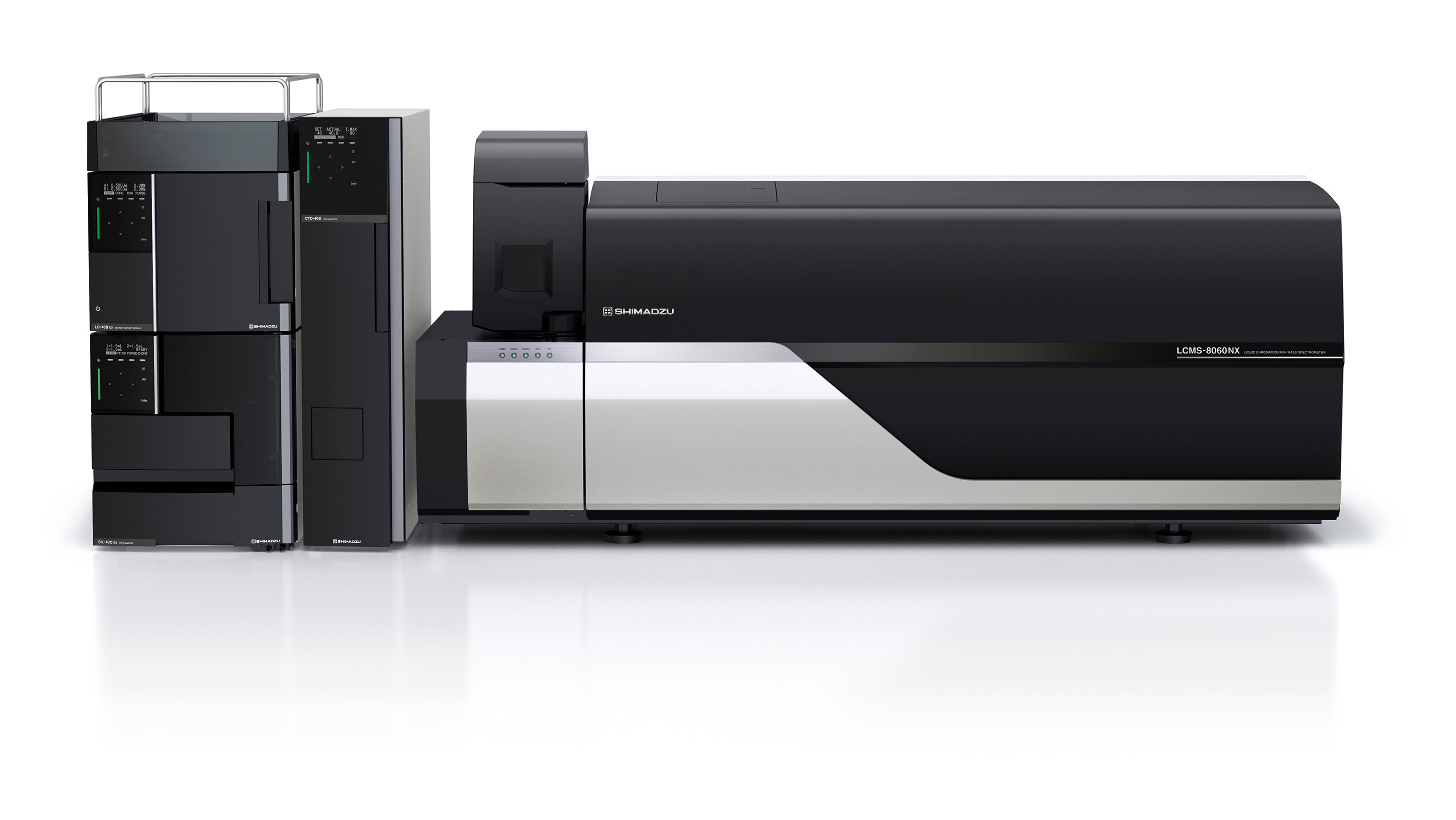 The new LCMS-8060NX coupled to the Nexera LC-40 series
Since 2010, Shimadzu is shaking the market in triple quadrupole LCMS by introducing game changing innovations. The groundbreaking pro­cess started with the LCMS-8030 featuring fast polarity switching of 15 ms, combined with ultra-fast electronics for short Dwell Time (DW) and Pause Time (PT), fast scanning speed and fast collision cell. These technologies are now well-established on the market under Ultra-Fast Mass Spectro­metry (UFMS). In 2015, the LCMS-8050 introduced 5 ms polarity switching and scan speed at 30,000 amu/s. It improved the market by presenting new ways of using a tandem LC-MS.
Due to the speed of all these new technologies, multiple MRMs/ compound methods (more than the standard 2 MRM Multiple Reaction Monitoring technique) started to be developed, enabling better identification with the MRM Spectrum Mode and simplified multicomponent/contaminants analysis review by switching acquired MRMs in post-run analysis in case of interferences.
Subsequent systems, the LCMS-8060 (2016) and LCMS-8045 (2017) are based on that successful LCMS-8050 platform. They of­fered the market a range of sensitivity depending on individual needs without sacrificing user flexibility.
User-friendly, robust and highly sensitive

A general market demand is the robustness of high-sensitivity instruments. The LCMS-8060 is already a highly robust system used in clinical and food safety applications. The need for more robustness as well as user-friendly meth­od development and analysis is a key driving force for Shimadzu, innovating existing lab solutions and creating new ones to steadily support the market.
A new addition to the LC-MS portfolio is the LCMS-8060NX Triple Quadrupole solution. With enhanced ease-of-use, robustness and a wide range of default para­meters, the new system achieves the balance between high sensitivity and robustness.
With the new IonFocus ion source, the LCMS-8060NX efficiently separates ions from neutral particles, allowing only the ions into the system driven by the Focus voltage. It releases the neutral particles through the drain.
A newly extended range for de­fault parameters in the ion source expands the possibilities for a high-sensitivity analysis. The improvement of the integrated ion pathway establishes the LCMS-8060NX as the class leading triple quadrupole LC-MS on the market.
Analytical Intelligence for simplified lab management

In combination with the brand-new LC-40 series and its Analy­tical Intelligence concept, it offers an outstanding solution for routine testing. Under the umbrella of Analytical Intelligence, Shimadzu's analytical systems will be successively equipped with automated functions, enabling users to easily review instrument status, optimize resource allocation and achieve higher throughput.
The concept simplifies lab management and enables higher productivity, maximum reliability and better connectivity, applying IoT, Artificial Intelligence and M2M.