New – Materials Testing Application Handbook
100th anniversary of materials testing equipment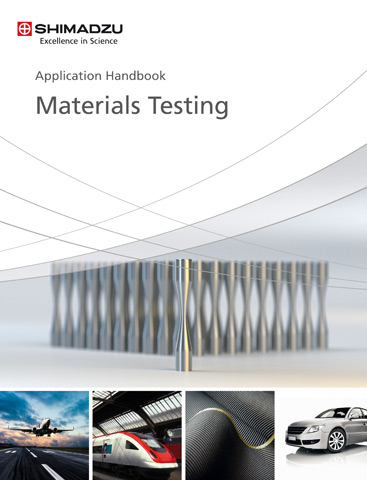 Shimadzu's Materials Testing Application Handbook is now available and can be downloaded via www.shimadzu.eu. It covers 112 applications in eight industries such as automotive, aerospace, biomaterials and medical, composites, food, metal, railroad, rubber and plastics industries to support consumer and environmental protection as well as product reliability.
The Materials Testing Application Handbook is hands-on and solution-oriented. The applications described cover most-modern technologies, e.g. universal, fatigue and hardness testing and also high-speed video camera application.
Since 1917, Shimadzu has a proven track record in manufacturing testing machines designed to meet the diverse needs of customers worldwide. To date, the company has sold tens of thousands of testing machines. In addition, Shimadzu has marketed thousands of application-specific systems tailored to the unique needs of clients, and remains committed to providing customers with this same level of service in the future.
Please see also other Application Handbooks on
Liquid Chromatography
Food & Beverages
TOC
Clinical
GC/GC-MS.
Further information on this article
• Application Handbook Materials Testing