A century of experience
Shimadzu celebrates 100th anniversary of testing machines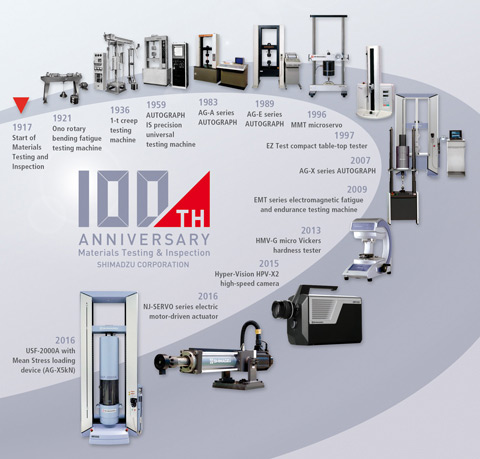 100 years testing machines
After 100 years of experience and continuous development in materials testing technology, Shimadzu's product range today includes static and dynamic universal testing machines, hardness testing instruments and capillary rheometers as well as the HPV-X high-speed camera, the most powerful in its class – with 10 million frames per second. Shimadzu's testing machines are at the cutting edge of technology regarding control systems, sensor technology and information processing, to reliably support developers and users.
What started in 1917 with fiber and cement testing machines, continued in the following decades with hydraulic, dynamic and fully automated testing instruments including an ultrasound fatigue testing system as well as a particle size analyzer.
Testing innovative and increasingly high-performance materials

Material characteristics vary widely and behave differently depending on ambient conditions and forces exerted. Research and development departments need highly precise and reliable data for production and quality control of innovative and increasingly high-performance materials, for instance composite or jointing materials.
Precision universal testing machine for research and development

Just one representative example of the versatility and performance of Shimadzu's materials testing systems:
Shimadzu's AG-Xplus series includes especially powerful and versatile electromechanical testing machines. With their rigid frames and precise load cells, they are optimally equipped for all requirements, in particular for research and development.
For customer-specific requirements, numerous solutions are available, for instance a dual space testing system, without the need to switch testing accessories for compression and tensile testing.
With its user-friendly Trapezium X software, all settings required can be applied in the shortest possible time.
Further information on Shimadzu's testing machine expertise is available on page 28.