Three new top performers
Dr. Franz Kramp, Dr. Johannes Hesper, Shimadzu Europa GmbH
They are high-performance, compact and user friendly: With three new products, including one that is the first of its kind, Shimadzu proves its innovative strength for the laboratory of the future.
A world first: AIRsight FTIR/Raman Microscope
Shimadzu has dedicated itself to developing better and better devices for use in industry, laboratories and science. With the AIRsight, Shimadzu replaces two separate devices with one. The AIRsight is the only microscope in the world that can perform both FTIR and Raman spectroscopy.
In the process, two types of analyses complement each other: While infrared spectroscopy is often used in conjunction with a spectra database to detect organic compounds, Raman spectroscopy is particularly suited for the analysis of aqueous solutions, inorganic substances and microscopic samples.
It is the only microscope that is able to record FTIR and Raman spectra from an extremely small sample in the same place. As a result, this combination provides important additional information and leads to a more thorough analysis.
Thanks to the combined technologies, a single AIRsight instrument requires much less space than a classic combination of two devices, an infrared and a Raman microscope. And since both technologies are controlled by the same high-performance AMsolution software, overall usability is simplified and improved considerably.
The AIRsight Infrared/Raman microscope improves analytical efficiency by making it easier to perform all process steps, from sample observation to data analysis. The devices also increase accuracy, as the user can obtain qualitative infrared and Raman spectra in the same position without having to move the samples to the next device.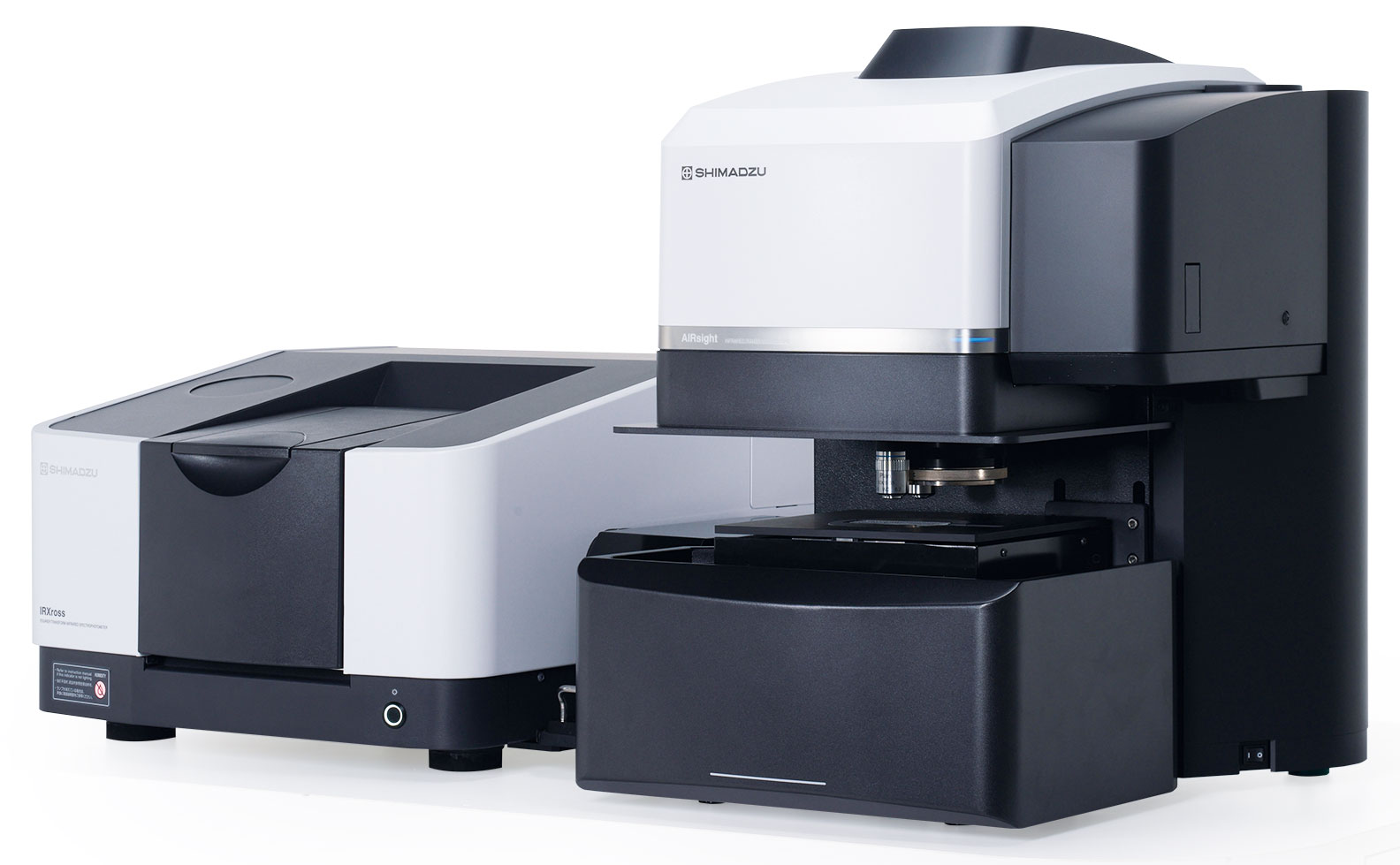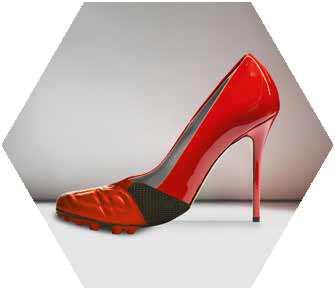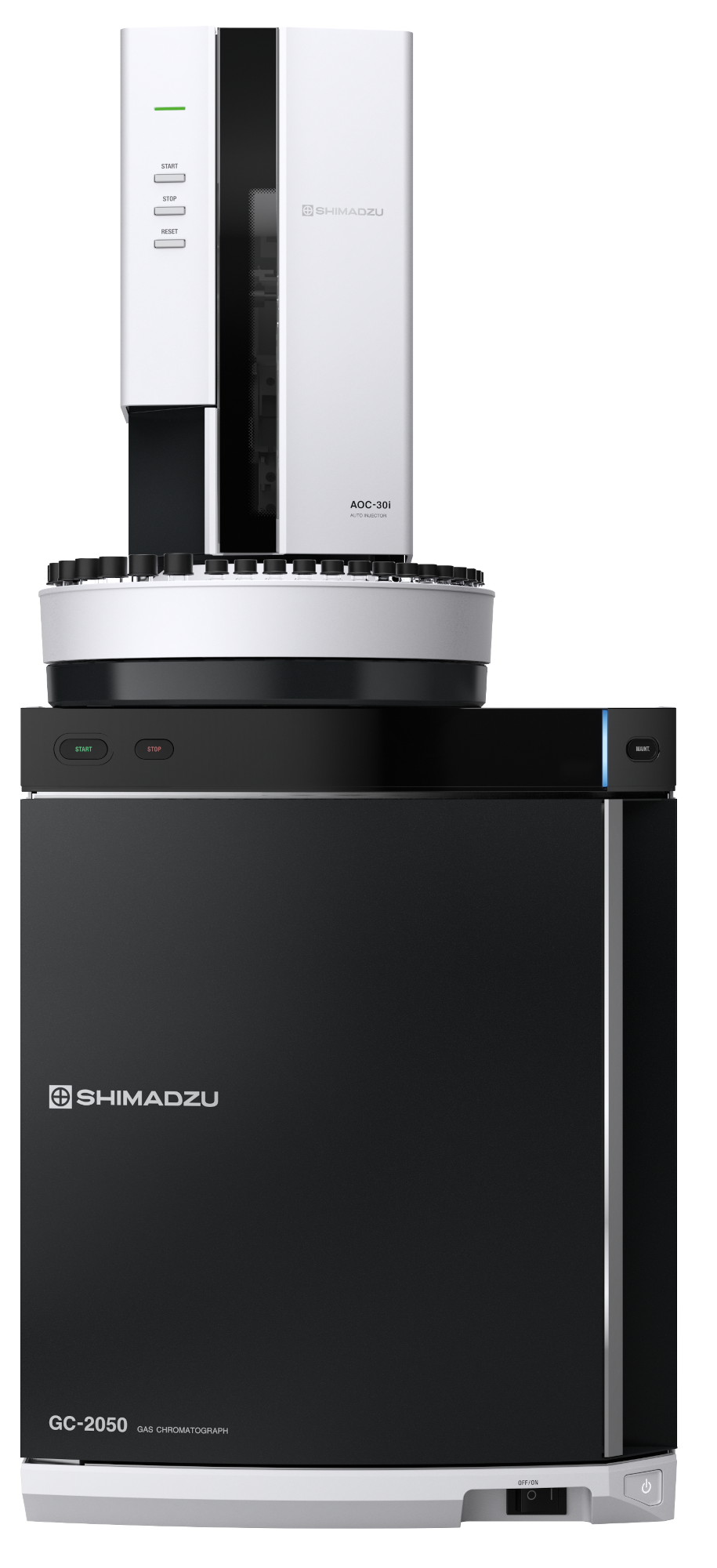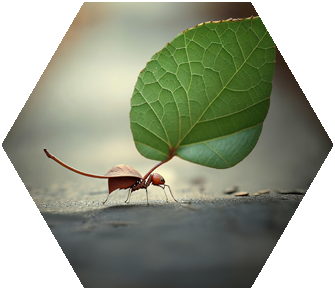 High performance with a small footprint: Brevis GC-2050 gas chromatograph
As a more compact version of the popular Nexis GC-2030, the Brevis GC-2050 combines a low space requirement with high analytical performance. Small enough that a typical lab table can accommodate multiple units, the GC-2050 allows for the simultaneous operation of two analysis lines with standard capillary columns. The GC-2050 can be operated and maintained compatibly with its larger brother GC-2030, as it uses the same techniques for sample injection and detection as well as the control of carrier and detector gases.
In addition to helium, the GC-2050 can optionally be operated with hydrogen, nitrogen or argon. Therefore, if the price of helium rises, it is possible to switch to alternative gases at any time. If the user is committed to expensive helium for GC analysis, various techniques allow for significantly reduced gas consumption. For example, a complete split flow is required only during sample injection. During the remaining analysis time, the GC-2050 reduces consumption and avoids unnecessary use of the carrier gas.
Furthermore, during standby times it can switch to nitrogen, which is more economical. When a new sample measurement starts, the GC-2050 will then revert automatically to helium as the carrier gas.
At night or during longer rest times, the system can switch off automatically after all ongoing processes have ended. At a freely selectable time, it will switch back on to continue with new measurements.
Leaky connections within an analytical line can adversely affect the analytical result. After maintenance work, the GC-2050 performs an automatic leak check and warns the operator if there is a leak. Changing the separating column is made easier by the user-friendly ClickTek technology, as no tools are needed and leaks due to insufficient or excess tightening are eliminated.
The GC-2050 can be used flexibly with a variety of CDS software platforms (chromatography data software), including: LabSolutions (Shimadzu), Chromeleon 7 (Thermo Fisher Scientific), OpenLab (Agilent Technologies) and beginning next year, also Empower 3 (Waters Corporation).
Environmentally and user friendly: AIMsight infrared microscope
With the new AIMsight, Shimadzu presents the successor to the AIM-9000. With it, Shimadzu meets both the increasing requirements for infrared microscopes and the growing demand for highly sensitive instruments that allow for rapid, easy and trouble-free measurements of microsamples.
AIMsight builds on the high sensitivity of the well-known AIM-9000 and offers an improved operator experience thanks to greater automation. The infrared microscope is also connected to an IRTracer-100, IRXross or IRAffinity-1S so that it is possible to analyze microranges with maximum sensitivity. In addition, numerous accessories are available to analyze a wide variety of different samples.
Besides trace analysis of impurities and quality control in areas such as chemistry, electrical devices and electronics, machines and transportation, this instrument will play a role in the study of microplastics, tiny plastic particles that have a negative effect on the environment.
The device supports laboratories not only in simplifying their employees' workflows, but also in protecting the environment. The AIMsight uses the new T2SL detector (Type-II Super Lattice), which is referred to as a next-generation quantum infrared detector. It uses neither mercury (Hg) nor cadmium (Cd), which are forbidden in electrical and electronic devices according to the European Directive for the Restriction of Hazardous Substances (RoHS).
This means that the AIMsight is not only an environmentally friendly instrument, but also an invaluable tool for analyzing contaminant traces and for quality control.